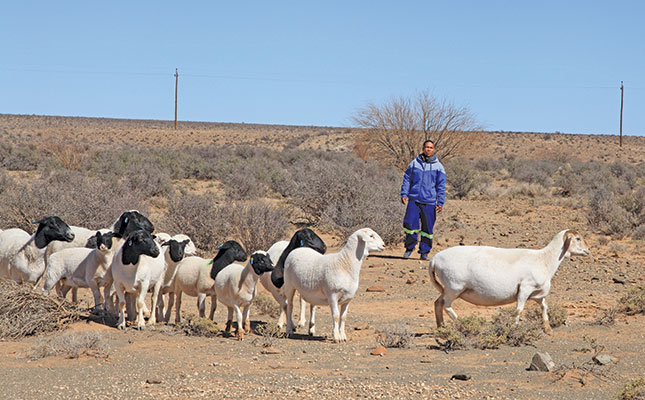 Succeed in farming on communal land
Juhillin van Wyk grew up on a farm in the Northern Cape and today runs a flock of Dorper sheep on communal land near Williston. He spoke to Wouter Kriel about what he has learned so far, as well as the importance of buying rams with the traits needed to boost herd fertility.
Juhillin van Wyk grew up on the farm at Banksfontein in the Williston district of the North Cape, where his grandfather once worked.
"I have fond memories of working alongside him on weekends and during school holidays. It was there that I discovered agriculture and learned to love animals," he recalls.
Van Wyk was named the winner of the Williston Meat Co-operative Group Lamb Carcass Competition in 2020 and sold 10 young ewes at the Williston Young Ewe Auction in August 2021.
He took a big step by starting his own farming business in 2018 when he bought 20 Dorper ewes lambed with lambs at the Williston Young Ewe Auction.
"I recently got married and my wife and I started a family," says Van Wyk. "My next step is to buy a house in Williston. The sheep are my attempt to create a legacy for my children.
"Currently, I don't have any land of my own, so the local commune was the natural starting point for me. To gain access to the township of Williston, I had to join the new local farmers' organisation, Amandelboom Kleinboere. To do this, you must own at least 10 animals and have [a unique tattoo on them.]"
Van Wyk says all land applicants received a map of the commune and the different camps available.
"I immediately saw the potential for a camp straddling the Sak River just outside of town. It has a lot of natural fluitjiesriet (common reed), ganna bush and old man's salt bush, so the carrying capacity is more than the surrounding camps. I don't have to feed the animals as intensively as some of the other farmers in the area, especially with the prolonged drought of recent years.
The camp is fenced and there are water points with JoJo tanks and wind pumps available. In return for using the infrastructure, Van Wyk is responsible for maintaining the equipment.
Agriculture in the commune has its challenges, however. "It's close to town, which means you have to watch your animals carefully so they don't go missing. I manage this by spending as much time as possible with my animals. This way I can also quickly see if they have health problems and treat them.
"We are also next to the municipal landfill and the wind blows a lot of plastic in my camp. I have to keep it clean to prevent animals from eating things that might harm them.
"[Another problem is that] we get a three-year lease, which is very short. I would prefer a lease of at least five years, so I can make better long-term plans for my business," he says.
Rams
The 20 ewes Van Wyk purchased to start his operation lambed and quickly grew to 40 animals, and in February 2019 he entered the Lamb Carcass Competition at the Williston Meat Co-operation. It is also the year when he buys his first ram.
"A ram is very important to the future of your flock, so you need to carefully weigh all the different aspects when making your purchase decision," he says.
He stresses the importance of looking at the animal's frame and noting the size and shape of the scrotum, as this plays a key role in the number of lambs and the future fertility of the flock. But the historical performance of the animal is just as important.
"You must inspect his [records] very carefully. You can't tell from physical inspection if a ram [is fertile]but you can learn a lot from its historical performance.
Another characteristic that Van Wyk looks for in a ram is the shape of their hindquarters.
"The ram must have the right posture to ride a ewe. If he can't climb easily, it means he has weak hind limbs. I pay attention to this because it's easy to identify and helps eliminate potential mating issues from the start.
Van Wyk adds that a ram should have a solid medical history and be in generally good condition. And once a farmer has purchased a ram, it is important to take good care of it.
Management
Van Wyk says he plans to purchase another ram in 2022. "As my flock grows, it becomes important to have the right ram to ewe ratio. I currently have 55 ewes and I think the best ratio is 25 ewes to one ram. A ram costs me around R6,000, although the same animal may be more expensive at auction.
Van Wyk says he will deal directly with a breeder to get the best ram at the best price. Van Wyk points out that a farmer who wants to raise lambs must actively plan and manage the animals; it's not good to leave them and hope for the best. He allows the ram to be with the sheep for three weeks, after which he removes it and tests the sheep for pregnancy.
"It is important that the ewes, especially the young ones, have enough time to recover from the attention of the ram, and also to get used to the ram. I find that if the young ewes are too stressed by his presence, [they tend to abort more easily]. At the same time, the ram also needs time to recover and rebuild its condition before being placed with the ewes for mating.'
Van Wyk feeds his sheep two products: Ram Lamb and Ewe concentrated feed pellets, to help with milk production, and ORV Lactating (in small amounts), to help ensure good milk quality.
He separates the ewes laden with lambs from the flock and gives them special attention. The ram is then reintroduced into the open ewes.
Van Wyk does not immediately eliminate ewes that fail to conceive, as there are many reasons why this might be the case. If he slaughters sheep, he uses the money to buy more cattle.
Inevitably, the severe drought in the area has affected him, but he is managing the situation with a feed mix of alfalfa meal, maize, straw and molasses, along with RumiStim cake as a supplement, which helps to prevent bloating.
"The fluitjiesriet, the ganna bush and the salt bush in my river camp help me a lot. Some farmers plant salt bushes, but in my camp they grow naturally.
Van Wyk says he's lucky because he only needs to provide a little food; the sheep get all of their supplemental feed from the veldt. This helped him farm profitably. Additionally, he and the other communal farmers also receive periodic food donations, which helps keep costs down.
More success awaits
Van Wyk says his secret to performing well in the lamb carcass competition was the selection of the lamb and the feed provided in the months leading up to the competition.
"About four months before the event, I selected 10 lambs and isolated them from the herd in a separate camp. Eventually I entered the top four. I dosed them with Ralgro, which regulates the meat to fat ratio in lambs. There should be just enough fat, but not too much. Then I fed them ORV Skaap Wenstoet. This is normally a conditioning product for rams, but for me it works very well on lambs. lambs.
Van Wyk says any young person who wants to cultivate should just go there.
"You have to be ready to learn and remember that it's something that takes a lot of time. The more you give of yourself, the more you will be rewarded. I took a leap of faith when I bought my first 20 ewes, but the carcass contest and young ewes auction showed me that I am on the right path to becoming a successful farmer.
Email Juhillin van Wyk at [email protected]or call him on 060 350 0406.