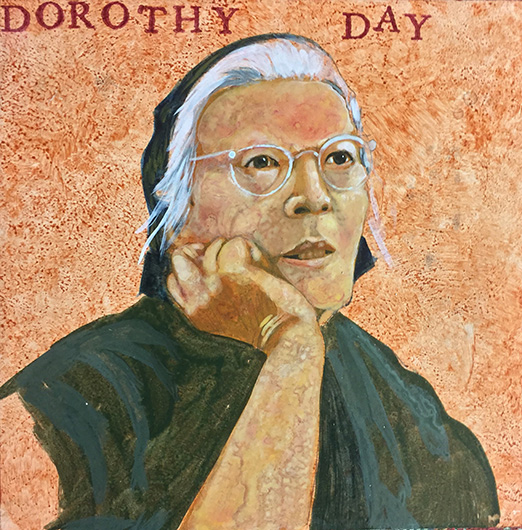 Holy women, men focus of series by longtime iconographer – Chicagoland
Joe Malham is well known for his work as an iconographer. Artist-in-Residence at Mother of God Parish St. Gregory the Great Church, 5545 N. Paulina St., has created a new series featuring modern holy women and men who have done great things in during their life.
Included as a subset of the series are "Chicago Heroes," which includes Catholics who have ministered in the Archdiocese of Chicago, such as Dorothy Day and Cardinal George Mundelein.
The series' inspiration followed an icon of the Healing Christ, which Malham created at the start of the pandemic to give comfort to those who are sick or have sick or deceased loved ones.
"I realized I couldn't go back to what was and started to find something new," said Malham. "[I] came up with this idea from these 20th century Catholic heroes. It's a new look, I think, for once again.
It's also a slightly different "raw" style from his earlier work of creating icons.
"What I wanted to convey is that instead of showing people in their deified state like with icons, I wanted to show them a little more impressionistic to show that we are all still moving forward," said Malham. "We still follow Christ and we still proclaim the cross even though we are imperfect and unfinished. "
Each hero image is a signed and numbered 12 inch by 12 inch reproduction on stretched canvas that may be framed. All of them come with a short biography of the person.
Malham hopes to make another Chicago hero series, which will likely include Our Lady of Namur's sister Dorothy Strang, who was murdered in Brazil in 2005, and who taught in several Archdiocesan schools.
"It's pretty neat, the channel just keeps getting bigger the way all these great Catholic lives are tied together," he said.
Malham also introduces Jean Baptiste Point du Sable, Chicago's first non-native resident.
"Obviously he didn't live a heroic life of holiness like Augustus Tolton, but they say he was very fair and honest and treated the native people with great integrity," he said. he declares. "This is heroic Catholicism at work."
Another Chicago hero is Mother Teresa Dudzik, founder of the Franciscan Sisters of Chicago, who died in 1918 and a pioneer in the care of the elderly and people with special needs.
"I think this is a story that young people, in particular, need to hear, because it is the communion of saints that advances the faith. These are the stories of who we were and it becomes the story of who we are going to be in the future, "he said.
"We have men, women, people of color who all have in common that they have followed Christ and proclaimed the cross," he said, adding that he wanted to make a series that exhibits "the magnificence total of ordinary people who lived in our archdiocese. "
The parish priest of Mary Mother of God purchased a set from the Chicago series to hang on the walls of the parish soup kitchen at St. Thomas of Canterbury Church, Malham said. He hopes schools will buy the series as a teaching and evangelism tool.
"I hope that somehow they end up in schools because nothing teaches like pictures," he said. "God really approaches us with beauty first, and I think these pictures are hopefully beautiful, but their stories are also beautiful."
For more information visit trinity-icons.myshopify.com.