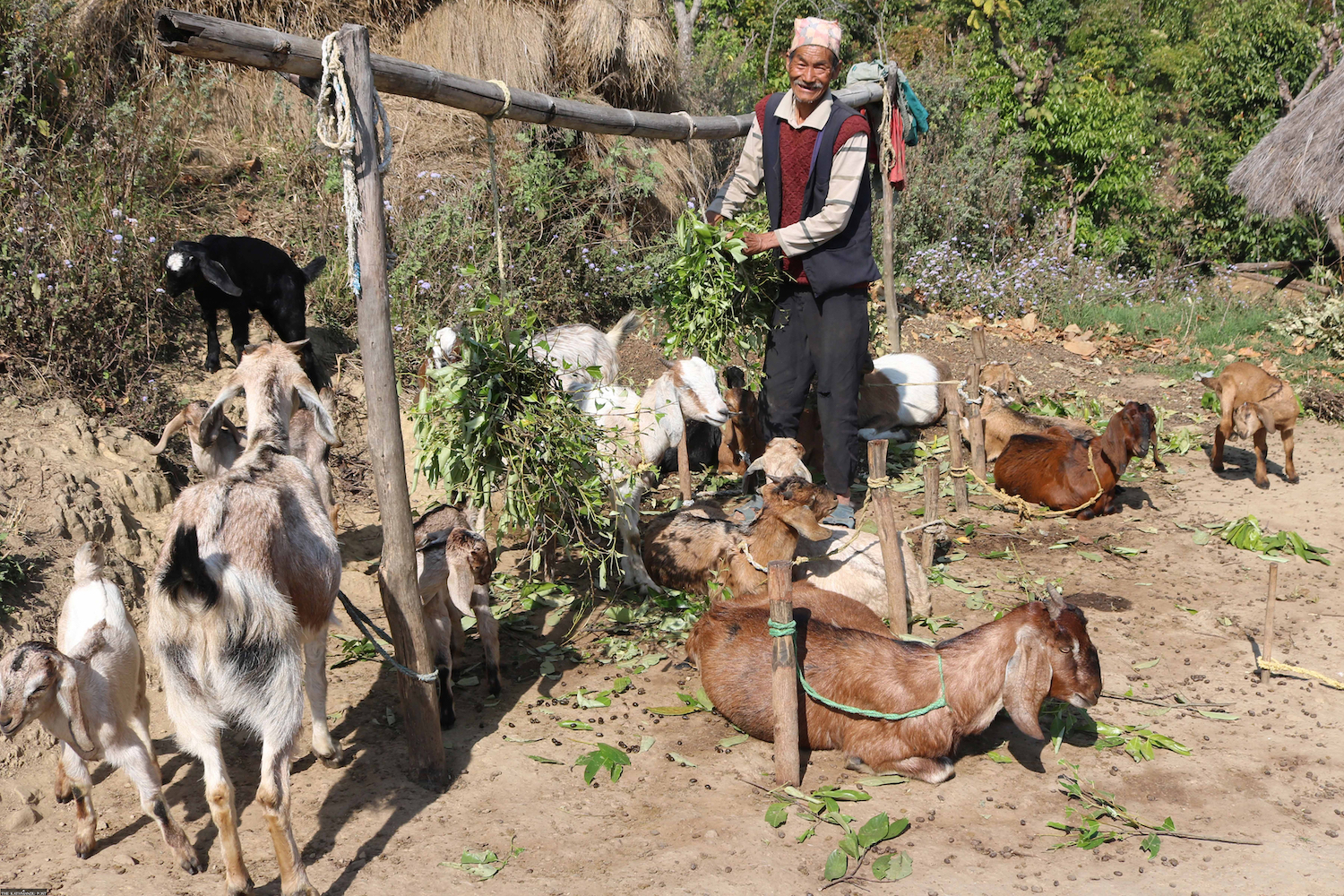 Goat farming thriving as Nepalese eat more meat
Four years ago, Krishna Raj Upadhyaya from Sarada-2 Municipality, Dadagaun started commercial goat farming with seven animals. Now he has 100 local and Boer goats, including kids, on his farm. Upadhyaya earns 700,000 rupees a year raising goats, which not only covers her household expenses, but also increases her savings. He said he had received new encouragement with better market access.
Jibraj Bohara from Sharda-8 Municipality is also engaged in goat herding which is his main activity. He got into commercial goat farming when he opened Srijanshil Bakhra Farm, and now has 70 goats and kids in a resting shed.
Bohara raised a family of six with the income from this business, and he also provided jobs for two young people in the village.
The government and other agencies have increased investment and subsidies in commercial breeding, which has helped farmers to engage in commercial goat breeding.
According to the Veterinary Hospital and Livestock Services Bureau, 133 goat farms have been registered in the district. Upadhyaya, a goat herder, said his business flourished after traders started coming to the village to buy goats and meat prices rose in the market.
The demand for goats skyrockets during the Dashain festival. About 10,000 goats are traded daily in the Kathmandu Valley from the first day of Dashain to the eighth day, according to Livestock Services Department records. Total sales during the festival amount to approximately 100,000 animals.
Goats sold in the valley come from Taplejung, Sankhuwasabha, Rolpa, Rukum, Mustang, Salyan, Pyuthan, Kailali, Jhapa, Morang, Panchthar, Bara and Khotang, among other districts.
According to the Customs Department, the country imported 13,827 live goats worth 107.88 million Indian rupees in the last financial year 2020-21. In the financial year 2019-2020, imports reached 10,292 goats from India and Australia, valued at Rs 122 million.
There were 580,000 local and advanced breed goats in Salyan last year. This year, the number has reached nearly 600,000, according to the Livestock Service Office.
Last year, the office gave grants to 75 farmers to build modern shelters for their animals. Bureau statistics show that the district annually produces 700 million rupees worth of goats.
Suresh Gahamgar, 45, from Kalche, who has been engaged in goat herding for seven years, said the business has given him self-respect and satisfaction. He started raising goats by buying nine goats in 2013, and now he has 108 goats and kids.
"There is no problem feeding the goats because there is a forest nearby and we are growing herbs that have grown in the fields," he said. "Based on phone calls, traders come to the house to buy goats," he added.
Ruplal Pariyar, a trader from Bangadkupinde Municipality, was able to sell goats worth about Rs 10 million after the lockdown last year. "Until five years ago, the business was purely subsistence-oriented," he said.
"Now the number of commercial goat herders has increased in the villages." The price of goat meat, which was 700 rupees per kg last year, has risen to 800 rupees this year.
Kapil Prasad Upadhyaya, head of the veterinary hospital and livestock services office, said about 1,000 farmers in the district practice commercial goat farming. "Goat raising has improved the incomes of many families," he said.
Salyan district alone provided 42,800 goats worth Rs 640 million last year. Animals are shipped to major cities in the country like Kathmandu, Narayanghat, Butwal and Nepalgunj.
According to the Ministry of Agriculture and Livestock Development, the country used to import up to 600,000 goats a year, and now that figure has been reduced by 97%.
The import of goats has plummeted due to Covid-19 restrictions, experts say. This also reflects a drop in imports during the Dashain festival when large numbers of animals are slaughtered. Last year, celebrations were muted, so demand plummeted, they said.
Based on current market prices, Nepal's annual meat, egg, fish and milk production is valued at 450 billion rupees, according to the ministry. The country produces meat for 275 billion rupees, milk for 122 billion rupees, fish for 37 billion rupees and eggs for 17 billion rupees per year.