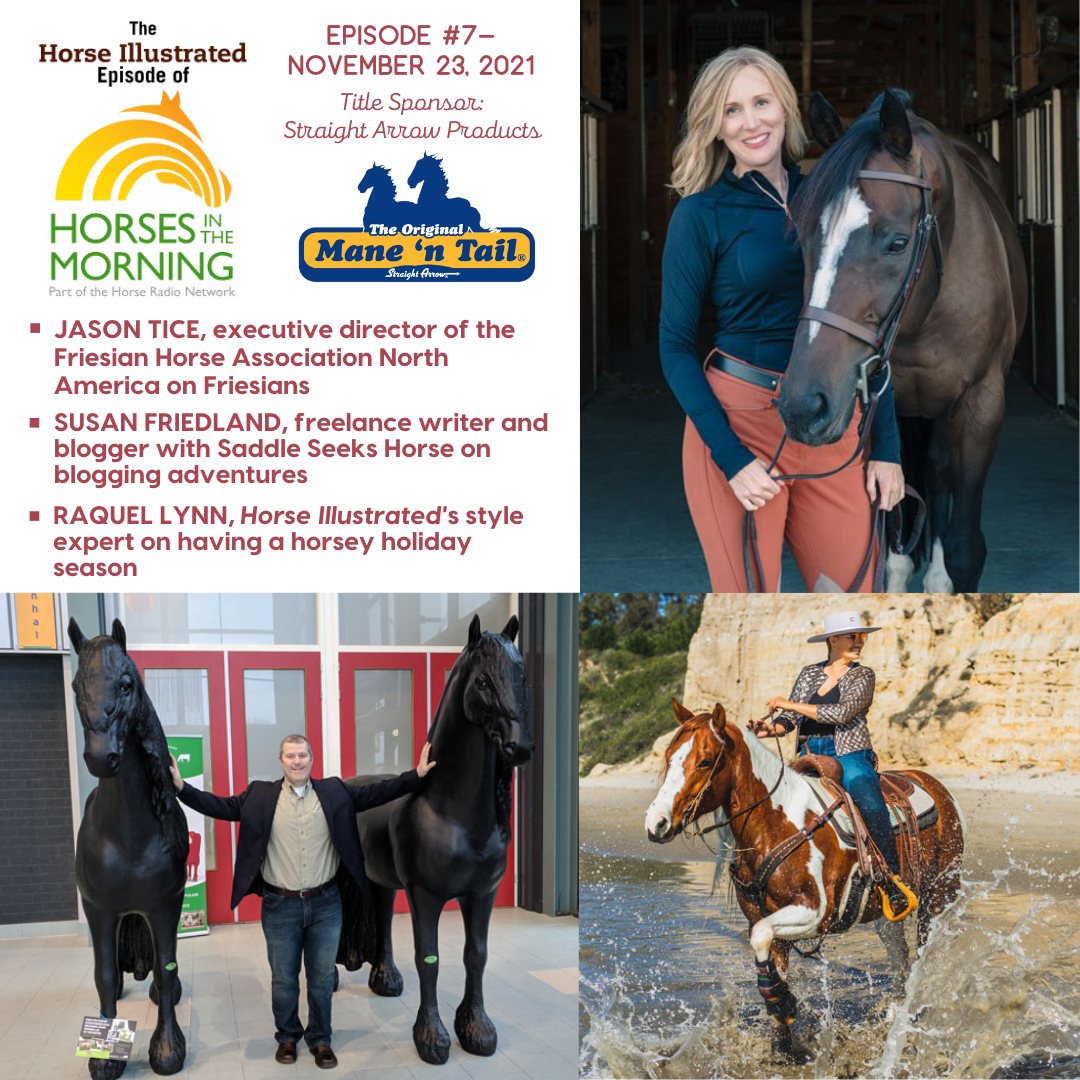 Friesian Horse Association NA, Blogging Adventures, Horsey Holidays
In the seventh episode of
The horse illustrated the morning horses episode
sponsored by title sponsor Straight Arrow Products, hosts Glenn the Geek and Sarah Evers Conrad talk to Jason Tice about the Friesian breed and the Friesian Horse Association North America, freelance writer Susan Friedland of Saddle Seeks Horse and her adventures of equestrian blogs, and at Horse Illustrated's style expert Raquel Lynn on how to vacation on horseback.
Link to the audio file for the visually impaired: Click here
Hosts: Sarah Conrad, Digital Content Editor of Horse Illustrated & Young Rider and Glenn the Geek, Host of Horses in the Morning
Title Sponsor: Straight Arrow brand family
Mentioned holiday competition: Share your favorite horse memory for a chance to win
Special subscription offer from Illustrated horse: This holiday season, treat yourself to a one-year subscription to Horse Illustrated AND gift another equestrian friend or family member a subscription for just $24.95. That's two subscriptions for one low price. Visit www.horseillustrated.com/blackfriday anytime between Thursday, November 25 and Tuesday, November 30.
There's an app for that! Discover the new Horse Radio Network app for iPhone and Android. Follow Horse Radio Network on Twitter or follow Horses In The Morning on Facebook.
---
Jason Tice on the Friesian Horse Association North America

Jason Tice was the executive director of the FRiesian Horse Association North America (FHANA) for over 13 years. He came to FHANA based on his experience in membership management and event planning. Previously he hosted events for the Senior PGA Tour at events such as the Allianz Championship and the Senior LPGA Tour at events such as the HyVee Classic. He has seen the Friesian breed gain popularity in North America, especially in the sports world and with the Amish community. Not only can this breed compete at high levels of dressage and driving, they are now enjoying success in western dressage. Originally from Ames, IA, and a graduate of Iowa State University, his interest in horses began when he met his wife Jessica. They currently have a 22-year-old Arab who they raised from a baby and an off-piste Thoroughbred.
Additional information: We featured the Friesian breed in the August 2020 issue of illustrated horsebut for those who are subscribers, you may see another breed profile in the upcoming January/February issue of illustrated horse.
Links for the Friesian Horse Association North America:
◆ Official website: www.fhana.com
---
Susan Friedland and her equestrian blogging adventures

Equestrian author Suzanne Friedlandfounder of the popular blog Saddle Seeking Horse, shares his blogging adventures, his horseback riding trips, his authentic product reviews, and the joys and tribulations of living with Knight, his thoroughbred saint, a spine thriver. Unbridled Creativity: 101 Writing Exercises for the Horse Lover, Susan's latest book, fuses horse themes with creative questions to inspire the equestrian writer. Recent posts on Saddle Seeks Horse have been Susan's Horse Riding in Ireland series, Winter Horse Riding Gear: the Ultimate Guide, and horse book reading list recommendations. In addition to working with brands to amplify their online presence, Susan works with individuals to improve their writing skills, social media literacy and publishing for the equestrian market.

Additional information:
◆ Articles by Susan on HorseIllustrated.com
◆ Interview with Susan Friedland of Saddle Seeks Horse at Equitana
Links on Susan Friedland
◆ Receive Saddle Seeks Horse blog updates via email: Subscribe here!
◆ Buy Susan's books! sellseekshorse.com/shop
◆ Follow on Instagram: @saddleseekshorse
◆ Follow on Facebook: @saddleseekshorse
◆ Read the blog: Saddle Seeks Horse
◆ Contact Susan: [email protected]
---
Raquel Lynn on How to Have a Horsey Holiday Season
Raquel Lynn lives in an equestrian district of Los Angeles with her husband Adam, Paint mare Fira, Mango the Pomeranian and four Silkie hens. She works from home and runs two blogs: Steady style and Horses & Heels. Raquel also enjoys freelancing for a handful of popular equine magazines including Horse Illustrated, Chrome and Paint Horse Journal. She has just published her first book, Stable Style: Barn Inspiration for all Equestrians, available on Amazon and www.stablestyle.net.
We also featured Raquel in our Equestrian Influencers column. Read all about his urban lifestyle riding his horse Fira through the streets of Los Angeles, his career as a home-based writer and social media guru, and his two successful brands here.

Additional information:
◆ Articles by Raquel on HorseIllustrated.com
◆ Raquel's article on Horsey Holiday Entertaining
Raquel Lynn Links
◆ Official websites: www.horsesandheels.com and www.stablestyle.net
◆ www.instagram.com/horsesandheels_
◆ www.facebook.com/HorsesandHeels
◆ www.stablestyle.net
◆ www.instagram.com/stablestyle
◆ www.stablestyle.net/shop
◆ www.facebook.com/stablestyle
---
Title Sponsor

We would like to thank our title sponsor, the Straight Arrow family of brands, makers of Mane 'n Tail, Cowboy Magic & Exhibitor's, with over 100 years of grooming excellence. For more information on your favorite products, please visit www.straightarrowinc.com and find Straight Arrow products at a tack store near you!
The "Magic" in Cowboy Magic comes from the bond between you and your horse. Cowboy Magic celebrates every moment with you, from quiet talks in the pasture to the adrenaline rush of competition. We want to invite you to enjoy your "Magic Moment" with your horse by sharing your favorite Cowboy Magic photos on social media using #CowboyMagicMoment.