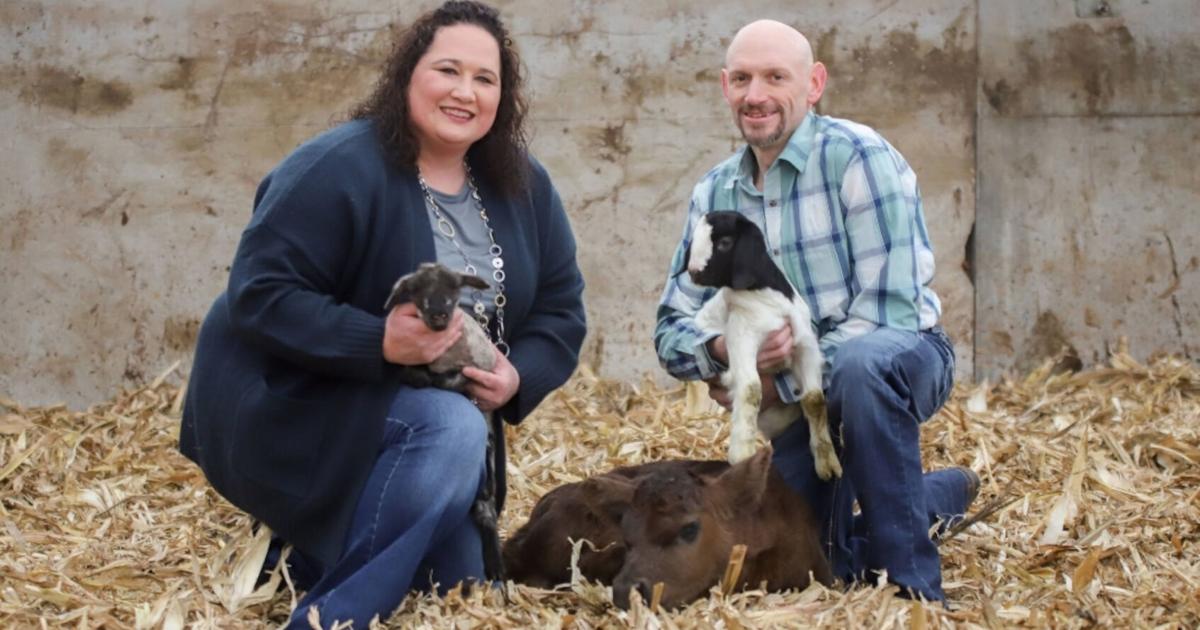 Baudler perpetuates the agricultural tradition | Atlantic
FONTANEL- One of Beth Baudler's earliest farming-related memories was seeing a black bald cow with her calf.
"The first memory I have of cattle (it was my maternal grandparents) had a really cool old basement in their barn, and I remember going down the steps from that basement. And he there was a bald cow that had this beautiful bald baby. I would have been two or three years old, "said the rural resident of Fontanelle.
She carries on the multigenerational tradition of working in the agricultural industry with her fiancé, Jason Christensen. They raise cattle, sheep and goats.
Baudler remembers his paternal grandfather being a lover of all types of animals and raising everything from chickens, rabbits, dairy cows, pigs and cattle cows. In fact, he was a big reason she and Christensen started raising goats.
"For the past few years, we've bought goats together," she said. "Of all the species (that we have), they have the most personality."
It was also a way to "honor" his grandmother, who never really liked goats.
"Grandma never liked goats," Baudler said. "One of the original goats that Grandpa Louis and I bought together was named Betty after my grandmother. He had a cow that had a white spot on the side and he named her Betty. Then , we had this black goat with a similar white mark, so he said we should also call her Betty. It became a family joke, because grandma didn't like goats running around the yard or hear how "she" came out. In the end, this goat Betty had a set of triple goats on my grandmother's birthday. We call them Betty two, four and five because I missed them.
But long before raising goats with her grandfather, Baudler remembers being thrilled to go out with her father to see if there were any new baby calves in the field, and also being scared when her father came out. to check on baby pigs and their mother sows.
"The big thing that I really remember was that we calved in a pasture," she said. "The sows were mean. (My dad used to pull the baby pigs), and she would get up and be really upset. Or he cut needle teeth, and he locked himself in the hut to do that. And the sow was going around the hut with me on it.
The Adair County Fair brought other emotions. Above all, Beth wanted to attend each day, to be surrounded by people and animals. It was also a lot of fun to exhibit a project, even before she joined 4-H.
"In Adair County, if you went to Extension summer camps, you had the opportunity to exhibit in the 4-H building," she explained. "I always made sure to go to at least one summer camp, so I could bring an exhibit to the fair. I would have been in CM2 (and) that year, I drew the life cycle of the corn plant. It was really neat because this exhibit was actually on display at the Agriculture and Natural Resources Division State Fair. »
That same year, the family also displayed the "Big Boar" named Goliath at the state fair, which Baudler said meant feeding and hosing it daily with water during the summer heat.
"He was quite the pet," she said.
It was after this that his mother wondered why Baudler and his siblings weren't in 4-H.
"The next year I remember my mom very well – she looked at Dad and said, 'The kids are already doing 4-H type activities anyway, I don't know why we don't let them in. the 4-H. '"
His first official exhibit was a bucket/bottle calf named Bullwinkle.
She also remembers Deb Hall encouraging her to participate in 4-H programs like State 4-H Round Up.
"The first time I went to the 4-H Round Up, they let us ultrasound a heifer," she said. "I remember being so excited, because I had never done anything like this before. At the time, we did not use these technologies in our herd. In fact, being able to experience these practical things really motivated me to want to do more with livestock, in particular. »
Another program was the National 4-H Conference, held in Washington DC; it helped Baudler learn new skills by learning what it was like to fly in an airplane and talking to lawmakers about his farming experiences.
"I just remember (Hall) saying to me, 'You've got the skills. You can do it. There will be lawmakers you talk to – what can you tell them about your story that will impact what they do? »
Hall also helped Baudler apply for scholarships and eventually attend Iowa State University to study animal science.
"She didn't have to, but it had a huge impact and I know she did it for a lot of kids too."
While in college, Baudler worked as an intern at Iowa Gold, doing ethanol co-product sales, livestock nutrition work, and ration balancing. This work continued after college. Recently the company was purchased by Balance4ward. Now she works for the New Balance Commodities division of Balance4ward, doing the same thing.
The job fits well with raising livestock, as all animals have nutritional needs that she can provide. While she started out with cattle cows, she had work mentors who pushed her to use small patches of pasture around the family farm that were normally empty. So she decided to start raising sheep.
It worked perfectly with Christensen, who raised sheep while his parents were growing up.
"My dad always had sheep, but his job at the Iowa Department of Agriculture and Land Stewardship (IDALS) required him to travel a lot," he said, "(My siblings and I) helped with household chores and helped with lambing. This is where I really developed a passion for animal care. Despite the cold temperatures, I love going to the lambing barn and checking on ewes and new lambs.There is a certain peace, a genuine appreciation of mother nature that comes with bringing new life to the farm.
The two love the aspect of showing the next generation what it's like to be part of the agriculture industry, and Baudler loves how customers have become lifelong friends.
"Jason and I work with a group of kids who have show lambs (and I) have had the opportunity to watch clients' children grow up for over 10 years now," Baudler said. "It was really cool to see these kids mature and to see the passion for agriculture growing in other people."
Email Jennifer Nichols at [email protected]
This story contains original reporting by News Telegraph staff. If you are not a subscriber, please consider becoming one as local journalism is only possible with your support. A News Telegraph subscription plays a vital role in making this reporting possible.
Thank you for your support and for helping us continue to connect our community.