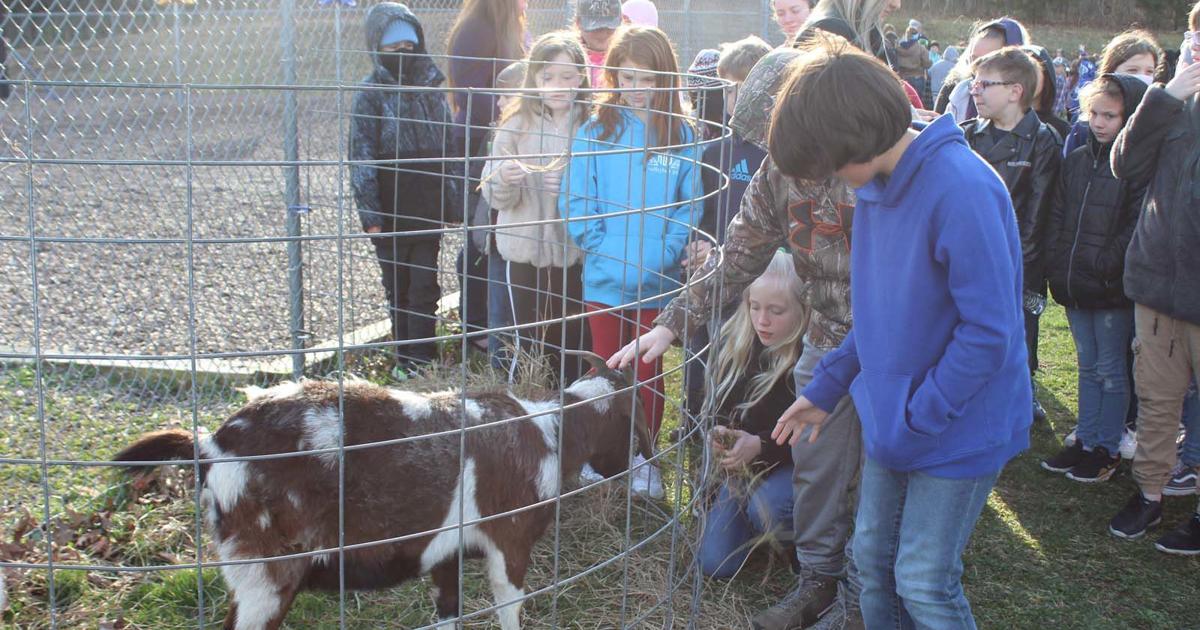 Ag Day teaches kids about farming | Local News
Agriculture was in the spotlight this week as Creekside and Lakewood elementary schools held farm days.
On Wednesday, Creekside students explored many aspects of farming, including equipment, livestock, crops and other things that go into the business of farming.
This was the first year of their Ag Day event. Students rotated every 15 minutes to learn about various aspects of agriculture outside and in the classrooms.
The school still holds a career day, but organizers also wanted to do something more agriculture-focused, said school counselor Mary Donna Atcher.
"We're a rural school, but I don't think many of our students do all the components of agriculture," she said. "They think a farmer has a farm and maybe an animal and that's it."
By bringing their equipment and livestock to school, the students were able to experience some aspects of life on the farm.
"It helps them see how GA is affecting their daily lives in ways they may not have known," Deputy Director Lara Beth Hayes said.
Sophomore Ace Rigs said during the day that he discovered soybeans and wheat seeds. He learned how they grow and that wheat can be made into bread and soybeans can be made into crayons. Although he said he was not a fan of vegetables, he was learning more about them.
Outside, Kinsley Anderson and Emerson Buckles heard of a large truck being used to haul farm produce.
Kinsley said she discovered different foods and medicines for cows. She also learned about farm safety. She admitted that she didn't know much about agriculture until her school started teaching agriculture as part of the school curriculum. She was able to see animals on Wednesday such as a dairy cow, a goat and a pig.
Emerson said she was familiar with farming outside of school because her family has beef cattle.
"We learned today that a calf would not survive without its mother's milk," she said.
It's a lesson she learned first hand because there was a calf recently born on her farm and because the mother had no milk for it, they had to bottle feed the calf. She called the calf Zippy.
Organizer Jade Sadler is with the Hardin County Farm Bureau and also has a child in school.
"As a parent, I'm so grateful for the focus on agriculture that Creekside has made," she said. "We appreciate the opportunity for our children to be exposed to this at such a young age."
All the students might not become farmers, but they might become a farmer's neighbor and she said they could understand what farmers do.
"We don't expect everyone to become a farmer, but we want them to know where their food comes from and to be good neighbors to farmers," she said.
Agriculture teacher Becky Dennis said the students no longer knew where their food came from.
"I think they need to know that soil and water are precious resources and that we need to take care of them to grow and know where the food comes from," she said.
Lakewood students had classroom instruction and time to learn about farm machinery and livestock Thursday morning.
Lakewood is in a rural community and because many children did not grow up on farms and may not understand how they benefit from farmers, said organizer and teacher Angela Pike.
March, she said, is agriculture month and for several years she has been teaching agriculture lessons in her classroom and organizing an agricultural day where community members involved in agriculture present to children .
"It is important for children to know what is happening in the community and how their needs are met through agriculture," she said.
She points out that even though they don't live on a farm, they pass a farm in most directions when leaving the school.
Lane Hunt, 9, grew up on his grandfather Avery's farm near the school. He said there are many people who need to know about agriculture.
"People need to know how a farm is an ecosystem," he said. "They need to know how sunlight is part of the farm ecosystem. Air, water, soil, insects, animals and the farmer are part of it.
He said that while he knows science is part of farming, others might not realize it.
Lane's favorite part about farming is the equipment. He likes tractors and especially semi-trailers. His dad hauls grain for a local farmer and he can ride with him.
Everett Richard Bowman, 10, said he had a small farm with a few beef cows.
"I guess you could kind of say we have a farm, I have some experience," he said.
He learned about the work that farmers have to do to give people food and clothes. He said some people might realize that what farmers do affects their lives, but he said others don't.
People may have never seen a farm or know little about it, he said. Everett thinks it's important that his friends who may not know farming learn about farming one day.
His favorite part of farming is being in the fields.
"He crosses the field with a plough," he said.
Many student farmers Patrick Preston spoke to said their grandparents had a farm, but their parents did not.
"Each generation is moving further and further away from agriculture," he said.
Preston said it's hard to be a first-generation farmer, but he hopes some students decide to do it.
Because the land isn't used for production agriculture as much today, local farmer Kevin Mobley said it's important for children to learn about farming because they do not see it themselves as much as previous generations.
Kyle Mobley, farmer presenter, said it's important for students to know that their food comes from a farm, not the grocery store shelves. He said many children were shocked when he told them how much the tractors they exhibited cost on Thursday.
When you compare it in terms they understand, their eyes would get really wide at the price tags, he said.
"That's the important part of it, to put it in terms that they can relate to and tie it all together," he said.